TAUCHEN AWARD for the SCUBAPRO Everflex suit
Submitted by

jon

on Wed, 02/20/2019 - 14:55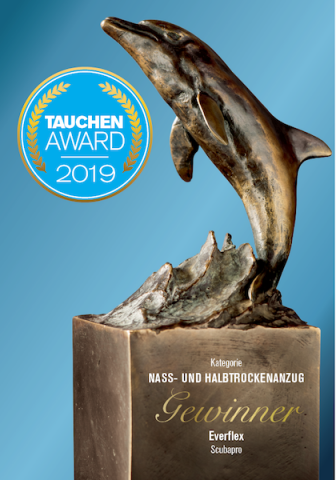 SCUBAPRO is extremely proud to have won, yet again, a bronze Dolphin and would like to thank all the divers who voted for SCUBAPRO and made this success possible!
Every autumn TAUCHEN diving magazine asks its readers about the best products and services out there. Who performed well enough to deserve a prestigious TAUCHEN award? The entire industry eagerly awaits the nominations and after a tense few weeks the winners are finally revealed.
The 24th January was the all-important evening. The Düsseldorf club 'Nachtresidenz' offered the perfect setting for the entertaining presentation of the bronze dolphins – the "Oscars" of the diving industry.
The awards for 2019 were split in to several categories and were awarded to manufacturers, diving resorts, travel companies and training organisations that according to the readers of TAUCHEN, were the best in 2018.
SCUBAPRO were nominated in all 5 technical categories: regulators, computers, wet-semidry suits, drysuits and BCDs and picked up the award for the best suit – our Everflex. Another Dolphin could be taken back the SCUBAPRO offices in Nürnberg.
With this result SCUBAPRO remains the long time winner: 21 Awards and 62 nominations – something that no other manufacturer has managed to achieve!
SCUBAPRO are honoured to have won another award and would like to thank again all the divers who also believe: Deep down you want the best!
SCUBAPRO is the world's most iconic brand of dive equipment, built by and for those whose passion is found below the water's surface. Founded in 1963 by Gustav Dalla Valle and Dick Bonin, SCUBAPRO remains the industry's gold standard for innovation, performance, reliability and durability. The company's products blend advanced technologies with intuitive, sophisticated designs, allowing divers to focus on their dive experience, not their gear. For the hobbyist to the professional, SCUBAPRO's portfolio features industry-leading regulators, dive computers, BCDs and thermal protection, along with a full line of masks, fins, snorkels, gear bags, scuba accessories and divewear. A Johnson Outdoors, Inc. company, SCUBAPRO employs more than 400 diving enthusiasts in 17 locations spread over 13 countries on four continents. Learn more at www.scubapro.com or join the global SCUBAPRO community on Facebook, Twitter and Instagram.