SCUBAPRO Dive Computer Trade-In Program – Save up to £ 105.
Submitted by

jon

on Mon, 04/23/2018 - 09:52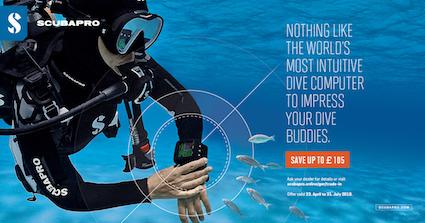 The SCUBAPRO mission has always been to provide all divers, from rec to tech, with equipment that allows them to get the most out of their dives. Our current dive computer Trade-In program is another great example of this.
Just bring in any dive computer to an authorised and participating SCUBAPRO dealer, and you'll receive £105 off a new SCUBAPRO G2. Or, if you prefer, £45 off a Galileo Luna or M2.
In the G2, you not only enjoy one of the world's most intuitive dive computers, every dive experience becomes an opportunity to explore more and do more underwater. Multiple modes allow the G2 to adapt and evolve with your skill level. Bluetooth capabilities wirelessly connect to and get the most out of all the latest dive apps. Vivid, intelligent display. Heart-rate monitor. Sleek, ergonomic design. And with £ 105 savings, your dive gets better even before you strap it on.
Trade-In today. For details, visit www.scubapro.online/ger/trade-in or ask your SCUBAPRO dealer.
Offer valid 23. April to 31. July 2018 and only at participating authorised SCUBAPRO Dealers. Not available in all countries.