NEW LIGHTS FROM SEALIFE
Submitted by

jon

on Mon, 03/11/2019 - 10:08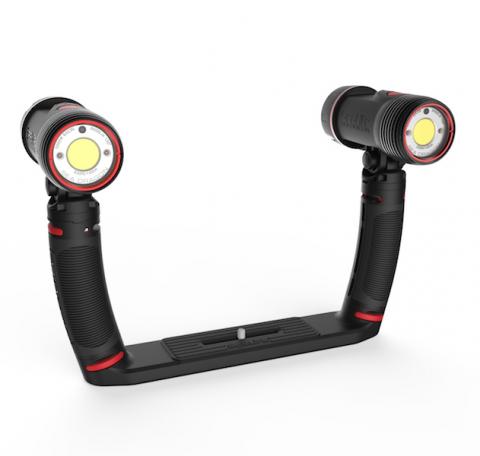 Good light is essentially, especially for underwater photography. To ensure this, SeaLife has launched new lights with real lumens, to lighten up every dive.
Powerful 3000 real lumens with Auto Brightness, Flash Detect and Night mode are offered by the new Sea Dragon 3000F Auto UW Photo- and Videolight. This makes the light the perfect companion for ambitious underwater photographers.
The new and improved COB design delivers a 120° smooth and even beam angle without a hot spot. Two red LED's ermit a 88° wide beam what won't scare away nocturnal sea creatures. Furthermore, it preserves your eye's natural night vision.
Brightness can be adjusted manually or automatically with its built-in photocell light sensor. The Auto Bright mode automatically adjusts from 300 to 3000 lumens.
The run time at full power is 60 minutes and the one button operation makes it pretty easy to operate in the depth.
The light is available as light head, as a set with grip and tray or in combination with a second light with fabulous 6000 real lumens or in a set with a flash.
More Features:
Five Light modes: 3 white modes (Manually adjust to 100%, 50% or 25%), 1 white Auto (Automatically adjusts from 10% to 100%) and 1 Red light mode
60 minute burn time at full power
Constant brightness - Regulated circuitry so the light won't dim with battery power.
80 Colour Rendering Index (CRI) that mimics natural daylight.
Easy to expand with Flex-Connect™ trays, grip and flex arms
Quick-release button to detach light and aim in crevices and hard to reach areas
Now available at authorised SCUBAPRO dealers.
Version / MSRP:
Sea Dragon 3000F Light head only: £389.00

Sea Dragon 3000F Auto with grip and tray: £415.00

Sea Dragon 3000F Flash Set with Sea Dragon 3000F Auto light and flash: £759.00

Sea Dragon Duo 6000F with 2 x Sea Dragon 3000F Auto lights: £819.00
SCUBAPRO is the world's most iconic brand of dive equipment, built by and for those whose passion is found below the water's surface. Founded in 1963 by Gustav Dalla Valle and Dick Bonin, SCUBAPRO remains the industry's gold standard for innovation, performance, reliability and durability. The company's products blend advanced technologies with intuitive, sophisticated designs, allowing divers to focus on their dive experience, not their gear. For the hobbyist to the professional, SCUBAPRO's portfolio features industry-leading regulators, dive computers, BCDs and thermal protection, along with a full line of masks, fins, snorkels, gear bags, scuba accessories and dive wear. A Johnson Outdoors, Inc. company, SCUBAPRO employs more than 400 diving enthusiasts in 17 locations spread over 13 countries on four continents. Learn more at www.scubapro.com or join the global SCUBAPRO community on Facebook, Twitter and Instagram.