Diving In the British Virgin Islands with BVI Holidays
Submitted by

jon

on Mon, 06/03/2019 - 09:53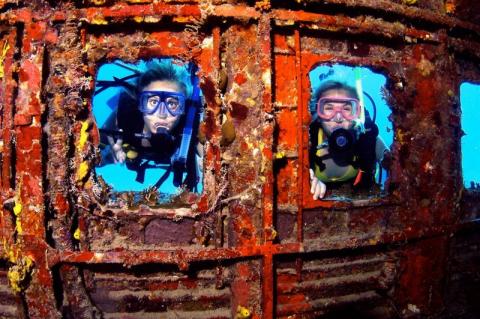 The BVI is an excellent choice for every level of diver – plenty of shallows with the occasional drop-off, very few currents and plenty of sheltered dive sites. The "Wreck of the Rhone" is one of the most famous and popular and lies in depths from 20 to 80 feet with the water temperature fluctuating at around 80 – 86 degrees.
The Rhone is home to several resident barracuda, sea turtles, stingrays, angel fish and many varieties of fish life. Blue Water Divers have been established in BVI for over 20 years and their dive centres are staffed by highly experienced instructors who offer a variety of PADI courses from beginner to advanced levels of diving and an excellent selection of guided tours.
They have two bases on Tortola at Nanny Cay and Soper's Hole, but also offer rendezvous diving, enabling them to cover virtually all of the known and lesser known dive sites in BVI. Blue Water Divers will take you to many fascinating dive sites.
A further example of the unique and exhilarating dives available in the BVI is the Kodiak Queen located close to Virgin Gorda. The Caribbean's newest dive site is the brainchild of our very own Sir Richard Branson, who resides in the BVI and she is one of the only ships to survive the World War II attack on Pearl Harbour.  The ship had so much history whilst afloat, including avoiding the bombs of Pearl Harbour and rescuing hundreds of people. Now it will create even more history, serving as a permanent eco-friendly underwater art installation – giving enormous pleasure to divers for many decades to come.  Dolphins have also been spotted exploring the sunken ship.
The Wreck of the Rhone and the Kodiak Queen are just 2 examples of what the BVI has to offer – wreck dives, reef dives, night dives all can be easily arranged.
Given its name "drowned island" by Christopher Columbus, Anegada is the BVI's only completely coral island. Being the world's third largest barrier reef, this coral atoll is home to an amazing variety of marine life.
Caverns, swim-throughs, overhangs and ship wrecks make this divers' paradise a trip you will remember for a very long time. We Be Divin' has been granted exclusive rights to dive the Horseshoe Reef, so come and join them as they explore Anegada's underwater world for the first time in over 15 years.
We have a wide range of hotels, apartments, villas and yachts to choose from and would love to assist in booking your special holiday to the beautiful British Virgin Islands.
Call us on 01279 871188 or email [email protected]  Website  www.bviholidays.com