Delma equips Internationally acclaimed wreck diving documentary team
Submitted by

jon

on Thu, 09/27/2018 - 11:30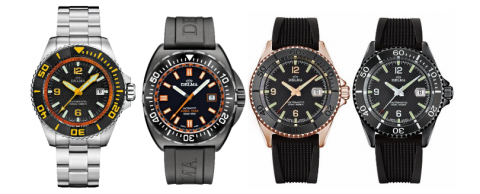 Delma equips Internationally acclaimed wreck diving documentary team with robust divers' watches to explore the ecological splendor and history hidden beneath the sea.
For almost a century, Delma has produced a high-end Swiss watch collection encompassing classic luxury timepieces, sailing watches that serve as the official timekeeper in acclaimed international races, and a robust portfolio of advanced divers' watches worn by professional divers all over the world. Every serious divers' kit should include a meticulously designed divers' watch equipped with all the features needed for even the most thrilling and demanding underwater explorations and adventures. Divers' watches from Delma deliver extreme water resistance to almost bottomless depths, helium valves that protect against overpressure, extra scratch resistance for cave and wreck dives, sturdy unidirectional bezels, and extreme legibility of hands and indexes for even the darkest conditions.
In search of reliable divers' watches to accompany their divers and film crew on ten exciting and historical wreck dives across the southern coastline of the United States, the Macadamia Production team of Season 4 of the gripping Brazil-based Naufrágios diving television series selected three Delma watch lines to help them capture the action and keep them on track. According to show producer Marcelo Guimaraes, "Delma watches gave us a highly reliable way to plan and monitor our team's numerous complex dives and intricate filming activities. The watches provided us with essential diving features and functions, as well as serving as striking diving accessories to complement the superb backdrop of the incredibly historic wrecks we highlight in Season 4."
The show tells the story of three experienced divers who traveled the world in search of the best wrecks to explore. Soon to be released in the fall of 2018, Season 4 covers beautiful and intriguing diving spots between North Carolina and the Florida Keys. Turning tragedy into meaningful sources of ecological preservation, downed vessels such as the Vandenberg, Spiegel Grove, Oriskany and a Russian freighter are now home to gorgeous underwater flora, fauna and sea life.
In Season 4, one male diver, two female divers, and the underwater camera crew wear three lines of Delma watches. The Blue Shark is Delma's ultimate divers' watch. With a helium valve that protects the watch against overpressure and water resistance to 3000 meters (9900 ft.), this professional divers' watch goes where only the most adventurous have ever gone. The other watches to take the plunge included three Delma Shell Stars, including a Shell Star Black Tag Limited Edition launched earlier this year in Basel, Switzerland. Two Delma Santiago divers' watches from Delma's core collection, slightly smaller in diameter and thus perfect for both male and female divers, rounded out this season's wreck diving lineup.
About Delma
Delma has passionately designed and built watches for almost a century. Founded in 1924, our long history as a family-owned watchmaking enterprise inspires us and fuels our future innovation while ensuring that we stay faithful to our roots. We produce all our world-class watches, from the most elegant timepieces to our most robust diving and sailing watches, with an extreme passion and dedication to both the art and science of Swiss watchmaking.